The LDBC consortium are pleased to announce the fourth Technical User
Community (TUC) meeting.
This will be a one-day event at CWI in Amsterdam on Thursday April 3,
2014.
The event will include:
Introduction to the objectives and progress of the LDBC project.
Description of the progress of the benchmarks being evolved through
Task Forces.
Users explaining their use-cases and describing the limitations they
have found in current technology.
Industry discussions on the contents of the benchmarks.
All users of RDF and graph databases are welcome to attend. If you are
interested, please contact: ldbc AT ac DOT upc DOT edu
For presenters please limit your talks to just 15 minutes
Agenda
April 3rd
11:30 coffee
13:10 - 14:30 lunch @ restaurant Polder
16:00 coffee
[17:40] End of
meeting
19:00 - 21:30 Social Dinner in restaurant
Boom
April 4th
LDBC plenary meeting for project partners.
Logistics
The meeting will be held at the Dutch national research institute for
computer science and mathematics
(CWI - Centrum voor Wiskunde en
Informatica). It is located at Amsterdam Science
Park: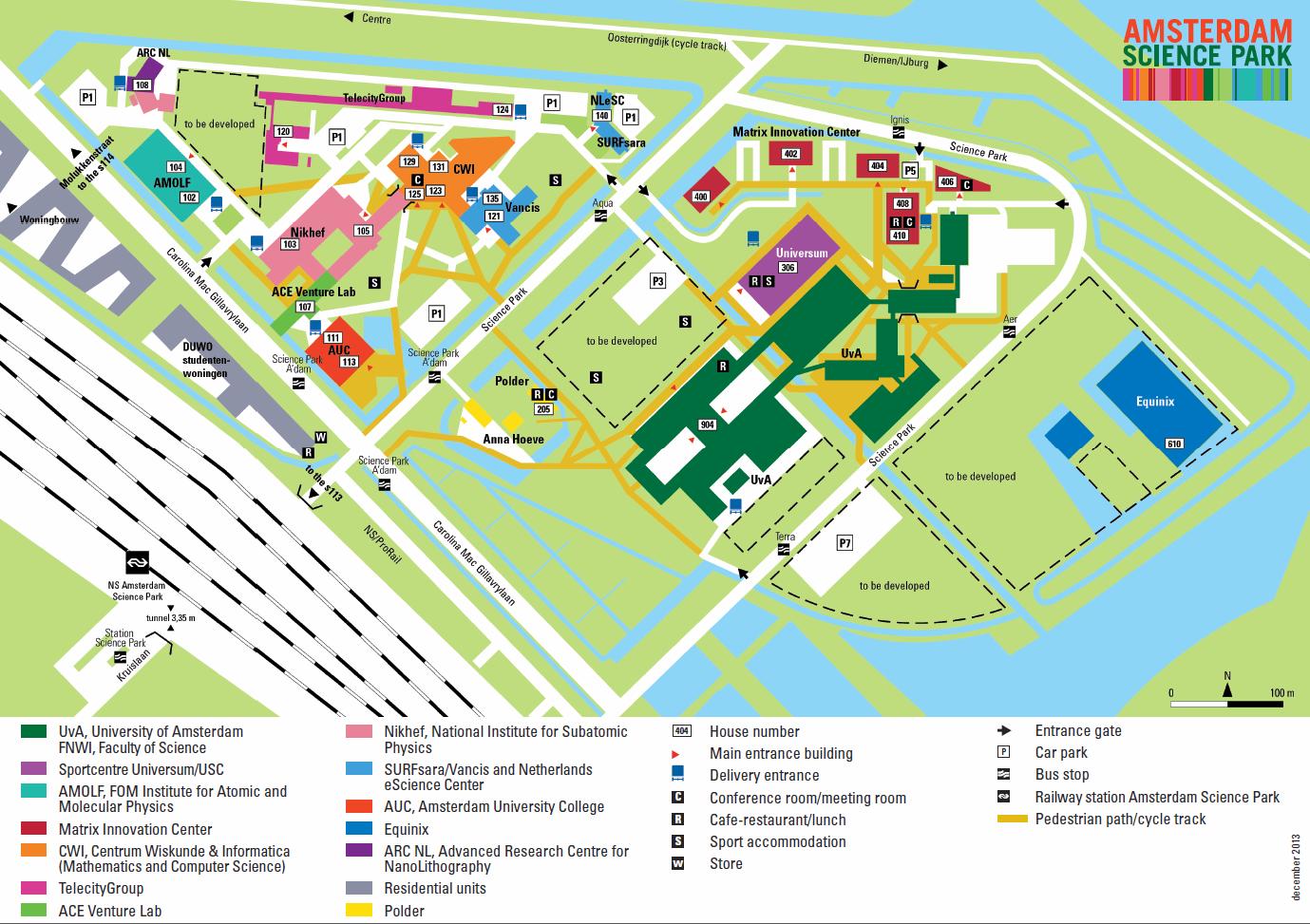 Hotel accommodation
We recommend accomodation at five hotels, at different budget
price-points (from cheaper to more expensive – prices based on recent
booking.com quote, breakfast inclusive):
Travel
Arriving & departing:
Amsterdam has a well-functioning and nearby airport called Schiphol
(AMS www.schiphol.nl) that
serves all main European carriers and also very many low-fare
carriers.
http://www.iamsterdam.com/en/visiting/touristinformation/gettingaround/arrival-and-departure/arrival-by-plane
Trains (~5 per hour) are the most convenient means of transport
between Schiphol airport and Amsterdam city center, the Centraal Station
(17 minutes, a train every 15 minutes) – which station you are also
likely arriving at in case of an international train trip.
From the Centraal Station in Amsterdam, there is a direct train (every
half an hour, runs 11 minutes) to the Science Park station, which is
walking distance of CWI. If you go from the Centraal Station to one of
the hotels, you should take tram 9 – it starts at Centraal Station
(exception: for Hotel Casa 400, you should take the metro to Amstel
station - any of the metros will do).
Taxi is an alternative, though expensive. The price from Schiphol
will be around EUR45 to the CWI or another point in the city center
(depending on traffic, the ride is 20-30 minutes).
Public transportation (tram, bus, metro) tickets for a single ride and
1-day (24 hour) passes can be purchased from the driver/conductor on
trams and busss (cash only) and from vending machines in the metro
stations.
Details about the metro, trams and buses, including the electronic
ticket system ("OV-chipcard") can be found here:
http://www.iamsterdam.com/en/visiting/touristinformation/gettingaround/publictransport
Only the "disposable" cards are
interesting for you as visitor.
Multi-day (up to 7-days/168 hours) passes can only be purchased from
the vending machines or from the ticket office opposite of Centraal
Station. For details see
http://en.gvb.nl/service_en_verkoop/ov-chipkaartoverzicht/Pages/ov-chipkaart-overzicht.aspx or http://en.gvb.nl/ovinmamsterdam/Pages/bestdeal.aspx
and
http://www.iamsterdam.com/en/placestogo/public-transport-gvb-tickets--info-desks/6688b9b9-7dba-4b3e-a01e-e7076c4d7831
Getting Around: the fastest way to move in the city of Amsterdam
generally is by bicycle. Consider renting such a device at your hotel.
For getting from your hotel to the CWI, you can either take a taxi
(expensive), have a long walk (35min), use public transportation (for NH
Tropen/The Manor take bus 40 from Muiderpoort Station, for Hotel Casa
400 same bus 40 but from Amstel station, and for the Rembrandt Hotel it
is tram 9 until Middenweg/Kruislaan and then bus 40), or indeed bike for
12 minutes.
Cars
In case you plan to arrive by car, please be aware that parking space
in Amsterdam is scarce and hence very expensive. But, you can park your
car on the "WCW" terrain where CWI is located. To enter the terrain by
car, you have to get a ticket from the machine at the gate. To leave the
terrain, again, you can get an exit ticket from the CWI reception.
Arriving at CWI: Once you arrive at CWI, you need to meet the
reception, and tell them that you are attending the LDBC TUC
meeting. Then, you'll receive a visitor's pass that allows you to
enter our building.
Social Dinner
The social dinner will take place at 7 pm on April 3 in Restaurant Boom
(boometenendrinken.nl),
Linneausstraat 63, Amsterdam.
Travel costs
There is some small budget available that can be used to assist some
attendees that are otherwise unable to fund their trip. Please contact
us using the following email address if you would like more
information: ldbcgrants AT ac DOT upc DOT edu
Attachments

A5_Map_of_Amsterdam_Science_Park_PDF.pdf
(application/pdf)


Map_Of_Amsterdam_Science_Park.jpg
(image/jpeg)


CWI_LDBC_Peter_Boncz.pptx
(application/vnd.openxmlformats-officedocument.presentationml.presentation)


2014-03-27_GraphProcessingPaaS14SPEC.ppt
(application/vnd.ms-powerpoint)


2014-04-03_GraphProcBenchmarking14LDBC.ppt
(application/vnd.ms-powerpoint)


LDBC_workshop_MikeBryant_030414.pptx
(application/vnd.openxmlformats-officedocument.presentationml.presentation)

LDBC Semantic
Publishing Benchmark Status - TUC4 - Amsterdam
3.April.2014.pptx
(application/vnd.openxmlformats-officedocument.presentationml.presentation)


cwislides.pdf (application/pdf)


LDBC_TUC4-TQ-aRH-v5.pdf
(application/pdf)


ldbc_jupp_ebi_2014.pdf
(application/pdf)


Amsterdam_GraphDB.pptx
(application/vnd.openxmlformats-officedocument.presentationml.presentation)


ChrisDavis.pdf (application/pdf)


CWI_LDBC_Peter_Boncz (1).pptx
(application/vnd.openxmlformats-officedocument.presentationml.presentation)

Virtuoso in PMS
Coentunnel - Bastiaan Bijl.pdf
(application/pdf)


VocBench_LDBC.pptx
(application/vnd.openxmlformats-officedocument.presentationml.presentation)

Presentatie
LDBC CWI 2014-04-03.pptx
(application/vnd.openxmlformats-officedocument.presentationml.presentation)


LDBC_TUC4_SNB.pdf (application/pdf)


LDBC_TUC4_SNB.pdf (application/pdf)


2014-04-03_GraphProcBenchmarking14LDBC.ppt
(application/vnd.ms-powerpoint)

Presentatie
LDBC CWI 2014-04-03.pptx
(application/vnd.openxmlformats-officedocument.presentationml.presentation)

Presentation
LDBC Heritage & Location.pptx
(application/vnd.openxmlformats-officedocument.presentationml.presentation)

{width="8" height="8"} LDBC meeting
amsterdam.pdf (application/pdf)\